Earning a criminal justice degree online at American InterContinental University could help you prepare to pursue a career path in one of the federal, state, or local agencies that comprise the U.S. criminal justice system. In our online associate or online bachelor's in criminal justice programs, you'll have the opportunity to learn about the fundamentals of criminal corrections, crisis management, forensics, the U.S. court system, and more.
Take the next step. Classes Start January 10, 2024
Complete this form and an AIU Admissions Advisor will contact you and provide further assistance.
Faculty Spotlight: Candace Walker
AIU Atlanta Instructor Candace Walker received the Lloyd Sealy Award on July 26 2022 for her work as the Director of the City of Atlanta Police Department Crime Laboratory. She was chosen for this honor by the National Organization of Black Law Enforcement Executives – NOBLE Awards Committee. The award is given to a person for outstanding service or accomplishments in the field of criminal justice.
Under her leadership, the Atlanta Police Department Crime Laboratory achieved national accreditation. She continues to develop processes and mechanisms to bring Atlanta Police Department internal units together to increase the maximum effectiveness for fighting and solving crime. Ms. Walker has been teaching at the University since February 2021.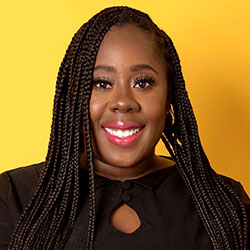 AIU's Online Criminal Justice Degree Benefits
Enrolling in one of AIU's online criminal justice programs comes with a number of benefits:
Fully online criminal justice classes offer flexibility and convenience for those with busy schedules, allowing you to read, listen to, or watch customized course content from any web-enabled device.
AIU allows you to transfer-in up to 75% of the credits required to complete your degree.1
intellipath® allows you to personalize your learning plan and skip what you already know, resulting in a more customized educational experience.
Access to our dedicated, 24/7 technical support team.
An online library that provides access to articles, books, websites, and additional resources, plus a staff of professional librarians who are here to help you when you need it.
AIU's Law Enforcement Advanced Standing Program (LEASP) may enable qualified students to turn their police academy training into college credits.
Bachelor's in Criminal Justice Online Program
AIU's bachelor's in criminal justice online program can help you prepare to pursue a potential career path within the field of criminal justice. You can choose among specializations in corrections and case management, forensic science, security and crisis management, or law enforcement, or you could opt for the criminal justice general track. Each of these options can provide an opportunity to learn to think critically and apply your knowledge to various issues within the criminal justice sphere.
Associate in Criminal Justice Online Program
Through our Associate in Criminal Justice program, you can work to develop knowledge, skills, and abilities relevant to obtaining an entry-level position in the criminal justice field. This program covers fundamentals of the U.S. criminal justice system and theories of crime causation, while also exploring juvenile delinquency and the juvenile justice system. Included in the core curriculum is a course on careers in criminal justice, addressing key topics such as reporting procedures and requirements, crime scene management, interviewing/interrogation skills, and job search strategies.
Get Credit for Your Law Enforcement Training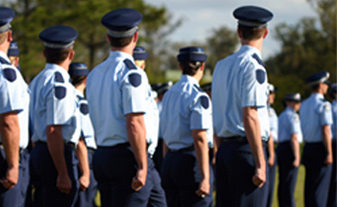 Through AIU's Law Enforcement Advanced Standing Program (LEASP), successful completion of a state-approved police academy program or other prior law enforcement training can earn you 36 college credits toward a bachelor's degree in criminal justice. This could save you up to 20 percent on tuition and allow you to earn your online criminal justice degree faster, by reducing the number of classes you need to take that cover the basics. During the admissions process, applicants can submit unofficial transcripts for a free evaluation by the Prior Learning Assessment Team. Enroll in one of our criminal justice programs today.
Admission Requirements
No SAT or other standardized test scores are required for acceptance to AIU. Applicants to our online criminal justice degree programs must supply proof of high school graduation or completion of an equivalent program by providing official high school transcripts or a high school diploma, or GED transcripts or certificate, as applicable. Homeschooled students are required to submit additional documentation and should reach out to an Admissions Advisor for guidance. Successful completion of 180 credit hours is required to graduate from AIU's online criminal justice bachelor degree program, while completion of 90 credit hours is necessary to graduate from the online criminal justice associate's degree program—although applicants with job education, military, or law enforcement experience may be able to receive education credit.1 Please see our admissions FAQ page for answers to a number of popular questions relating to the application process.
Accredited Criminal Justice Degree Online Programs
When considering online colleges for criminal justice degrees, it's important to choose a school that is accredited, as this can affect both financial aid options and how employers view your degree. American InterContinental University, AIU, is part of the American InterContinental University System, which is accredited by the Higher Learning Commission (hlcommission.org), a regional accreditation agency recognized by the U.S. Department of Education. AIU is also approved by the National Council for State Authorization Reciprocity Agreements (NC-SARA) through the Arizona SARA Council. NC-SARA aims to expand distance education opportunities and has established comparable national standards for the interstate offering of postsecondary distance education.
AIU has also received recognition from third-party reviewers. Military Times has ranked AIU among its 2021 Best Colleges list, and U.S. News and World Report has named AIU among its Best Online Bachelor's Programs lists for the past three years (2017–2019).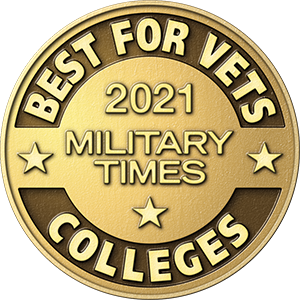 Earn Your Degree Faster Than You May Think
The Law Enforcement Advanced Standing Program (LEASP) gives students who have undergone police academy training the ability to convert that experience into college credit, allowing for accelerated criminal justice degree completion. AIU also awards credit to eligible students for previous work or military experience through our Prior Learning Assessment program1. To qualify, the outcomes of employment experience, non-collegiate/non-school based education, or life experience must be documented and applicable to the student's chosen program of study, and the outcomes of this experience must be comparable to what would have been gained through college courses. AIU also allows for the transfer in of up to 75 percent of the credits required to complete a bachelor's or associate degree1. Taking advantage of these various options can help you earn your criminal justice degree faster than you might have thought possible.
Ways to Save
The same programs that allow you to graduate faster can help save money, too. Prior learning credits or transferred college credits can help save not just time, but costs, too. Financial aid options are available for those who qualify, and all students should begin the process of applying for financial aid by filling out the Free Application for Federal Student Aid (FAFSA). We also offer a number of scholarships and grants to help you save on your degree. Our tuition and graduation date calculator can help you see estimated online criminal justice degree costs based on the information you supply.
Why Choose AIU's Online Criminal Justice Degree Programs?
Earning your criminal justice degree at AIU could provide the flexibility necessary to help you balance your professional and personal obligations with the requirements of your college courses. Perhaps you're interested in pursuing a criminal justice bachelor's degree online because you'd like to graduate with an online master's degree in criminology or in criminal justice someday, or maybe you've been researching career paths to pursue with a criminal justice degree and would like to seek out new opportunities. No matter what your educational goals may be, our online criminal justice degree programs are conveniently designed to allow you to fit your coursework into your life and not the other way around. Although you may sometimes feel stressed-out, overwhelmed, or short on time, our strong support network of faculty who have professional experience in the subjects they teach, a round-the-clock technical support team plus a staff of professional librarians are here to support you as you move through your educational journey.
---
1 Transfer credit is evaluated on an individual basis. Not all credits are eligible to transfer. See the University Catalog for transfer credit policies.
AIU cannot guarantee employment, salary, or career advancement. Not all programs are available to residents of all states.
REQ1481268 12/19
We design the curriculum to help our students develop knowledge and skills that they can use every day as criminal justice professionals. Our curriculum is designed to provide them with the realities of criminal justice in America today.

R. Holloway, J.D., Former Student University Program Dean for the School of Criminal Justice
I like imparting information that I learned outside of my academic career from experiences and observations made in my chosen field. In the truth, there is strength.

Dr. D. Lounsbury., Former Student Full-time Faculty for the School of Criminal Justice
Teaching became a passion while I was employed within the field of corrections in Georgia. If I wanted to see the change that I knew was needed in this field, I needed to teach new and upcoming professionals.

Dr. K. Pitts., Former Student Full-time Faculty for the School of Criminal Justice
Students choose to pursue criminal justice degrees for a number of different reasons, from seeking an administrative role at a corrections facility to pursuing a position with Homeland Security. Read more