Find Your Program
Master

of Healthcare Management

Healthcare Management
American InterContinental University's online healthcare management degree programs are designed to be flexible and convenient so that you can pursue your degree while carrying on with your busy life. Our career-focused, online healthcare degree programs provide opportunities to develop and integrate your leadership, interpersonal, analytical, and technical skills, while also teaching foundational knowledge in areas such as human resources, finance, and information technology as they relate to the healthcare industry.
AIU's Healthcare Management Degree Online Program Benefits
Save up to 25% on your master's degree by taking graduate courses in your bachelor's program.1
Our intellipath® learning tool allows you to personalize your learning plan and skip what you already know for a more customized educational experience—you can even retake tests to improve your overall grade.
Convenient online courses offer flexibility for busy schedules, enabling you to read, listen to, or watch, customized course content from any web-enabled device.
Scholarships, grants, loans and other savings opportunities are available to students who qualify.
Students have access to a dedicated, 24/7 technical support team.
Employment of medical and health service managers is projected to grow 28% from 2021 through 2031, according to the Bureau of Labor Statistics.2 Our healthcare management online programs can help you work toward developing advanced skills needed for healthcare services in various settings. Depending on your interests and the environment in which you'd like to work, among other factors, you can choose to specialize in either gerontology management or health services administration. Regardless of which specialization you choose, expect to immerse yourself in a quality degree program.
Specialization in Gerontology Management
As the baby boomer generation continues to age, so, too, will the elderly population in need of some form of medical care.2 AIU's online bachelor's degree in healthcare management program with a specialization in gerontology management can help you prepare to pursue a career in providing services to an aging population. A gerontology specialization could provide you with the knowledge and skills required to meet the demands of working with the elderly in hospitals, clinics, nursing homes, and private care. Coursework is designed to offer broad perspectives of issues in the field of healthcare and covers topics such as case management, sociology, and counseling for gerontology. Through this online healthcare degree program, you'll have the opportunity to explore social challenges and study more about the stages of aging, including age-related medical, mental, and physical issues.
Specialization in Health Services Administration Management
AIU's online bachelor's degree in healthcare management with a specialization in health administration emphasizes legal and regulatory elements within the healthcare industry and may appeal to those who are interested in implementing new healthcare policies. The healthcare administration online degree program curriculum addresses topics concerning the U.S. healthcare system, including structure, operations, regulations, and management. You will have the opportunity to study administrative roles in organizations such as hospitals, medical offices, insurance companies, and extended-care providers.
Master's in Healthcare Management Online Program
AIU's master's in healthcare management online program can help take your healthcare industry knowledge to the next level. Students earning their master's in health administration online in this intensive, 45-credit-hour program will examine more about global, historical, organizational, and operational perspectives across law, marketing, business, government, finance, accounting, ethics, and technology. The curriculum's multi-disciplinary approach is designed to help you prepare for professional roles in this ever-evolving industry.
Online Healthcare Degree Program Admission Requirements
No SAT (or other standardized test scores) is required for AIU's online bachelor's degree in healthcare management programs, and no GRE is required for our online master's in healthcare management programs. To be accepted into AIU's healthcare management degree online programs, proof of high school graduation or an equivalent program (i.e. official high school transcripts, high school diploma, or GED certificate or transcript) must be provided. Homeschooled students are required to supply additional documentation and should reach out to an Admissions Advisor for specifics. AIU's bachelor's degree programs require successful completion of 180 credit hours, and our online master's programs require successful completion of 45 credit hours. Students may be eligible for prior learning credit, which effectively reduces the number of classes required to earn their online healthcare degree. For more information on admissions requirements, check out our admissions FAQ page or reach out to an Admissions Advisor for assistance.
Accredited Online Degree Programs
AIU's Master of Healthcare Management (MHCM) is programmatically accredited by the Accreditation Council for Business Schools and Programs (ACBSP). AIU is part of the American InterContinental University System, which is licensed by the Arizona State Board for Private Postsecondary Education to grant degrees. And AIU's online bachelor's, MBA, and graduate education programs were ranked on U.S. News & World Report's Best Online Programs list 2017 - 2019.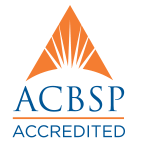 Earn Your Online Healthcare Degree in Less Time
Students may be able to transfer in up to 75% of the credits required to complete their bachelor's in healthcare management online.3 So, for example, if you've earned a healthcare administration associate's degree online or on-campus through another accredited program, those credits could be applied toward your bachelor's degree credit requirements. AIU also allows students to transfer in up to 12 credits toward their master's in healthcare management online program,3 which could translate into fewer courses and an earlier graduation date. Some admitted students may be able to receive credit for prior work or military experience through AIU's Prior Learning Assessment program, which turns eligible learning acquired outside of the traditional classroom environment into proficiency credits that count toward earning your degree. Our tuition and graduation calculator can help you estimate your expected graduation date based on the information you supply.
Save on Tuition and Fees
AIU offers cost-saving options that can help make earning one of our online healthcare degrees more affordable. Transferring credits3 can help save you both time and money, and through the AIU Master's Edge™ program,1 you could realize potential savings of up to 25% off your master's degree by taking graduate courses in your bachelor's in gerontology or bachelor's in healthcare administration online program. AIU offers 15 different grants and scholarships, and many students may qualify for additional types of financial aid, all of which can help make earning an online healthcare degree more financially feasible. If you'd like to get an idea of costs, our tuition and graduation date calculator is a great tool.
Why Pursue a Healthcare Management Degree at AIU?
Achieving your educational goals can at times seem like a daunting task, especially when you're juggling professional and family obligations and responsibilities. Maybe you've been working in healthcare jobs with an associate's degree and want to broaden your career options with a more advanced degree. Perhaps you've served in the military and want to leverage your experience to pursue an accelerated online healthcare management degree program. Or maybe you want to return to school for completely different reasons—whatever your motivations or background, the flexibility and convenience of our online healthcare degree programs may help you pursue your goals. AIU's career-focused, accredited programs for online healthcare degrees are backed up by a strong network of supportive faculty, online career services resources, technical support, and research support services, all of which can help make earning your degree feel more manageable.
---
1 The AIU Master's Edge™ program lets you get a head start on your master's degree while still pursuing your bachelor's degree, allowing you to save up to 25% on your graduate degree tuition.
2 Bureau of Labor Statistics, https://www.bls.gov/ooh/management/medical-and-health-services-managers.htm (last visited December 6, 2022). This data represents national figures and is not based on school-specific information. Conditions in your area may vary.
3 Transfer credit is evaluated on an individual basis. Not all credits are eligible to transfer. See the University Catalog for transfer credit policies.
Take the next step. Classes Start January 10, 2024
Complete this form and an AIU Admissions Advisor will contact you and provide further assistance.
What Students Are Saying About Their AIU Experience
My degree has given me something to accomplish and be proud about. It's an accomplishment for my family to be proud about. It helped me on my journey to wanting to be in healthcare.

Rachel E., Former Student 2023 Graduate, Bachelor of Healthcare Management