Online Master's in Education
Our online master's degree program in education are designed to provide a solid foundation for effective advancement practices for all educational practitioners. AIU offers specializations aligned to individuals interested in fields ranging from adult education to instructional design to secondary education.
Take the
next step.
Classes start
February 26, 2020!
Complete this form and an AIU Admissions Advisor will contact you and provide further assistance.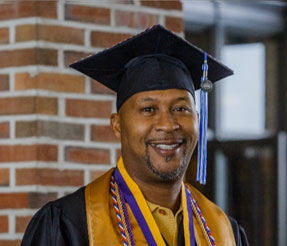 "The online option attracted me to AIU. The online atmosphere was great. AIU provided the tools and all the different resources to help me be successful in my degree."
- Anthony Wheatley
MBA 2018
BBA 2015
AIU's Online Master's Degree Program in Education Benefits
One-year online master's in education program.
intellipath® allows you to personalize your learning plan and skip what you already know.
AIU's online Master of Education program is programmatically accredited.
Convenient and flexible online learning courses offer options designed to work around a busy schedule and allow you to read, listen to, or watch customized course content from any web-enabled device.
Tuition and graduation calculator will give you an estimate of how much it may cost to complete an online program at AIU based on the information you provide.
24/7 technical support team available.
Selecting one of our online education master's program specializations may be a challenge. To decide which area interests you most, ask yourself what kind of learning outcomes you desire after completion and review the specialization options below.
Online M.Ed. in Adult Education & Training
Our online master's in adult education degree program can allow you to explore the design, implementation, and evaluation of adult education programs. Curriculum is designed to help candidates utilize authentic tools and assessment in the application of learning outcomes, such as Lectora. Coursework helps you prepare to teach adult students in various settings through basic and remedial education programs as well as continuing-education programs. You will examine developmental, behaviorist, cognitive, and social, adult learning theories and learn instructional design for various venues and situations common to adult learning environments.
Online M.Ed. in Curriculum and Instruction For Educators
Our online master's in curriculum and instruction degree program can help you rethink the way you prepare and develop curriculum for your students. You can examine techniques and methods of effective course design and implementation, focus on the development of comprehensive educational curriculum, and research supporting teaching and design practices.
Online M.Ed. in Elementary Education
Our online master's in elementary education degree program is designed for individuals with teaching licenses and covers grades K-8. This degree can help you work to develop the skills you need to reach more students, advance your expertise, and examine ways to enhance the classroom experience. When enrolled in this program, you will focus on researching resources for the classroom and up-to-date methods of instruction and assessment.
Online M.Ed. in Instructional Design and Technology
Our online master's in instructional design and technology degree program is designed for you to explore innovative education technology that enhances learning and teaching practices. When enrolled in this program, you'll inspect collaborative learning environments and create your own multimedia course content. Specialized coursework focuses on principles of instructional design, instructional technology, computer-mediated learning environments, and online learning theory and practice.
Online M.Ed. in Leadership of Educational Organizations
Our online master's in educational leadership degree program is designed to help you acquire advanced knowledge and skills common to general administrators and supervisors. You will also explore the processes of human-resource planning in educational organizations and consider how academic leaders introduce and implement new educational research.
M.Ed. in Secondary Education Online
Our master's in secondary education online degree program can help you assess methods of instruction and develop classroom strategies targeted to students in grades 7-12. Designed for those with a teaching license, this program focuses on researching resources for the classroom, the development of the secondary student, and managing the secondary learning environment.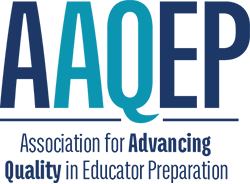 American InterContinental University is a member in good standing of the Association for Advancing Quality in Educator Preparation (AAQEP). The Master of Education program has been awarded full accreditation by AAQEP through June 30, 2026.
Online Learning Designed to Fit Your Life
Customized Course Content
Choose whether to read, listen or watch, depending on how you learn best.
Discussion Boards & Live Chat
Connect with your faculty and other students.
Ongoing Technical Support
Get help whenever you need it, by phone, email or live chat.
Watch Lori's AIU Success Story and Get Inspired
She didn't let a cancer diagnosis, a divorce or the demands of her job stop her from achieving her goal of earning her master's degree. Meet Lori Wilcox and she what she says about AIU.
"The attitude at AIU was, "This person is going to be successful. ... By any means necessary we're going to make sure they're successful as long as they are willing to put the work in."
Learn from Experienced Professionals
With diverse backgrounds and professional experiences, AIU's faculty bring everyday applications directly into their coursework so you can work to build the solution-based skills to help you prepare for your career path.
Class sizes are designed to be a collaborative, focused effort led by instructors who have real-world experience in the fields they teach.
Pursuing an advanced education degree typically means you've committed yourself to improving and expanding the ways you can serve students. Read more
There are many reasons you may pursue a graduate-level education degree, and choosing the right specialization can help narrow the focus of your program to your unique career goals. Read more
American InterContinental University's Master of Education degree is not designed to meet state educator licensing or advancement requirements; however, it may assist candidates in gaining these approvals in their state of residence depending on those requirements. Contact the state board of education in the applicable state(s) for details.